Here is a brand of knives that I have really come to enjoy enjoy recently. It all started when I came across the fantastic deal described at https://bladeogre.com/real-steal-real-deal-with-bogo/ from White Mountain Knives. That was my first intro into Real Steel Knives and been learning more about their knives ever since!
The two Real Steel knives from the BOGO deal are behemoths known as the Control model designed by Poltergeist Works. They come in three colors: blue, green, and black. I was able to get both the green and the black for just $50. That is $25 each. The most unique think about them are the open pivots in the front and back of the knives. This allows for a lanyard to be placed in the back hole since the knife does not have a dedicated lanyard hole. The only downsides and ultimately the reason do not carry them is the large weight and the fact that the flip side (where the clip is located) is plain metal.
The third knife from Real Steel is the one on the bottom in the picture above. This little EDC gem is known as the Sidus and its carbon fiber shred scales can glow blue in the dark if charged up with the proper flashlight. This knife is a great slicer, is light, and fits perfectly in the hand. While the first two knives introduced me to Real Steel, this is that knife that made want to find even more knives from the company!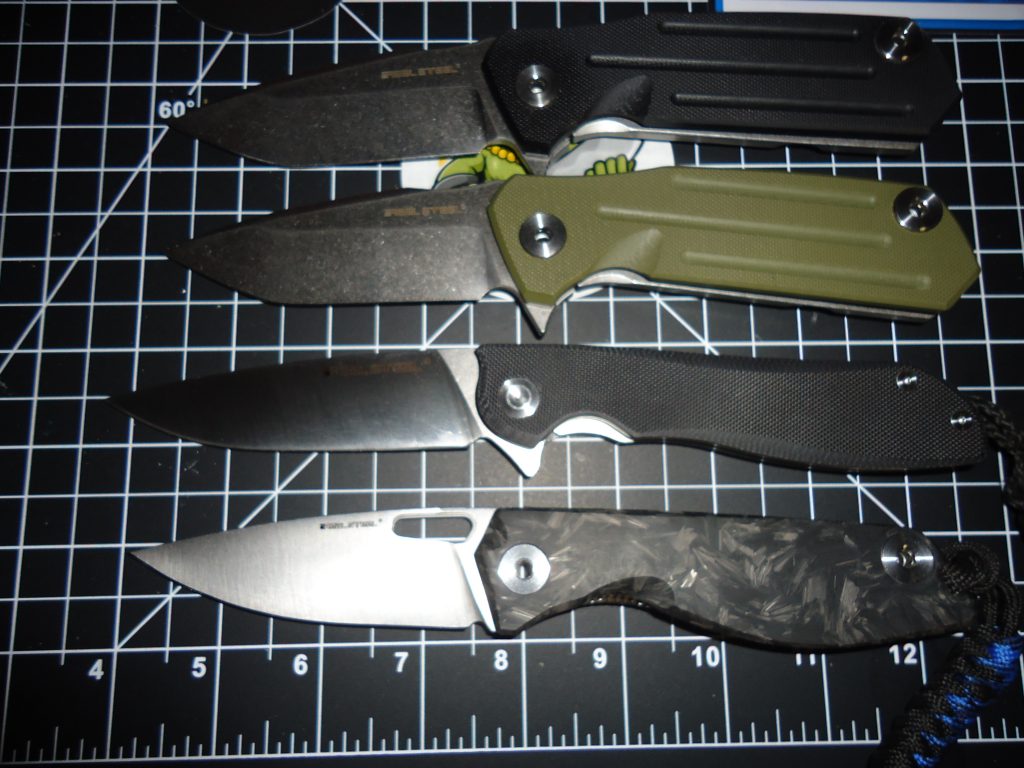 That search led to the fourth knife from Real Steel: the Megalodon! As the name suggests, the Megalodon is large knife with a blade that is nearly four inches long. Surprisingly, it is also very light due to a skeletonized frame. The meg is very sharp out of the box and the action is also superb. The only negative is that mine has a little noise when opening and closing, but I did get the last one in stock so it could have sat on a shelf for some time. What are my next Real Steel knives? One will be the Real Steel Metamorph and another will likely be the Real Steel Terra.